When I saw that our neighbors at 7008 Leestone St. were selling their house I rushed over to see if I could get some pictures of their backyard before they moved. No matter that we were between seasons, I had seen this garden once and was enchanted by it. Earlier I had been told that one wanted a straight shot from the front door out to the back gate so that the evil spirits passed through the house and left it alone. The husband mentioned this time that the small Japanese Maple at the front of the garden was so that the spirits would run into it and drop the money they had stolen. In any case, there is a plan, although I am afraid I can't relate it fully to you. The garden is peaceful, though, I think you will agree.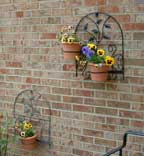 Upon entering, there are hangers on the brickwork that contain annuals, and also one sees that same idea repeated on the back fence.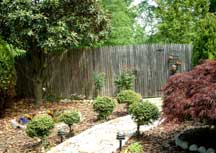 Further into the garden, one feels surrounded by calmness. The magnolia tree at the rear and the rose bushes along the back fence must be lovely when they are in bloom. There are also several rose bushes when one first enters.
Anyone else out there have some garden ideas they will share with us? If so, please contact me!